When I was a little girl, I often asked my mother where I was going to study, as far as I wanted to become an artist for sure, and could hardly remember the word "Academy of Arts", which my mother reminded me of with a smile on every single question. I was born in a family where no one painted ever and my grandmother used to quarrel every time I marked the house with my paints. Only my mother was supporting me and supplied me with drawing materials. Later I graduated from the Academy of Arts as well. I have been actively participating in various events and group exhibitions, international projects, and running solo exhibitions for several decades so far. Numerous works by me are preserved in museums and private collections all over the world - in Georgia, Ukraine, Italy, Germany, Azerbaijan, United States.
What are the three main themes of your art and why?
There are many topics for inspiration, but implementing them requires a long process. Topics are mostly reflected from the outside world and evoke different emotions in me, it is a very personal attitude towards the world. In recent years I have been working on women's rights and challenges they face, especially Georgian women ... I have had related exhibitions in galleries and the Museum of Literature so far. I periodically return to old topics because you can't exhaust it, anyway you're there, spinning around. It's kind of a feeling when you wanted to say more and you could not. I think, as far as time passes, you evaluate the same topic differently, you stand differently. You can't just move on and forget, it doesn't work like that. Also, I work on tree symbols and create a biographical series.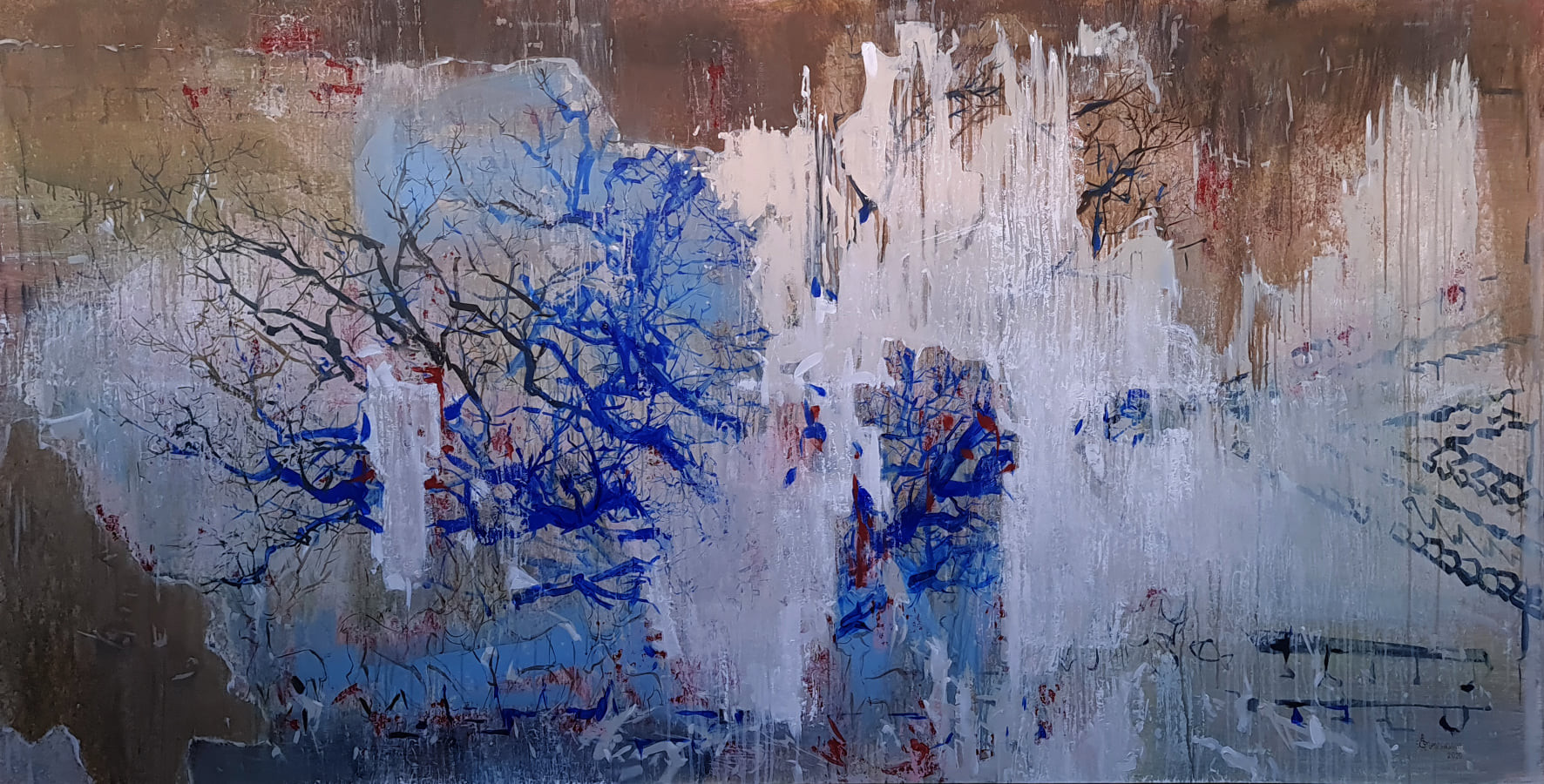 What impact did the pandemic had on you, how has your work environment changed? Tell us about recent projects and exhibitions.
During the pandemic, I worked even more actively in my studio. This period proved to be fruitful in terms of both creativity and sales. I participated in online projects where my works were available in a virtual gallery. Such was "Home Alone" and Tbilisi Online Biennale, where my colleague and I won by creating an interesting installation. My work published by the Guggenheim Museum was of special importance to me. As for the recent activities, before the pandemic, there was my exhibition at the Museum of Literature. I have been preparing it for the last 3 years, the topic was: The role of women in Georgia and the world. It was a competition, curated by a feminist organization on the topic of violence against women, where I won first place and the prize. The upcoming solo exhibition I am planning now will be of special responsibility and actually will gather previous years of my experience.
Which of your artworks or activities are most special for you? What about the audience?
I would rather focus on creative activity and its importance. Creative work in some cases is a way to escape from the world, but I perceive the best aspects of my work and my core values as a way to return to the world because people often lose logical and rational perception being led by the flow. As for creativity, I try to communicate with recent audiences because the problems I am working on should be seen and presented from a different perspective as much as possible, to make it even more clear and inspire even more questions. Artists often say that it is necessary to ask questions, but what these questions will be, how logical they will be and how much they will push people to think, is far more important. Along with painting, I also work in digital media, graphic design, UX / UI, installations, and ceramics.
What do you consider the biggest challenge in your profession?
In our reality, painting is becoming more commercial as far as it may be relevant and integrated into many different fields, such as advertising, illustration, design. An important challenge now is to actively commercialize art, but at the same time not to lose originality, individualism, to characterize each artist with special, unique features.
What is your favorite festival you have participated in or would like to participate in in the future?
The festival called "Misamarti" turned into an experimental and interesting experience. It was an attempt to bring art into each person's home. For this, ordinary people vacated their homes so that artists were given space to paint during the festival. Relationships with the artists were also an interesting point. I also plan to participate in international residences in the future.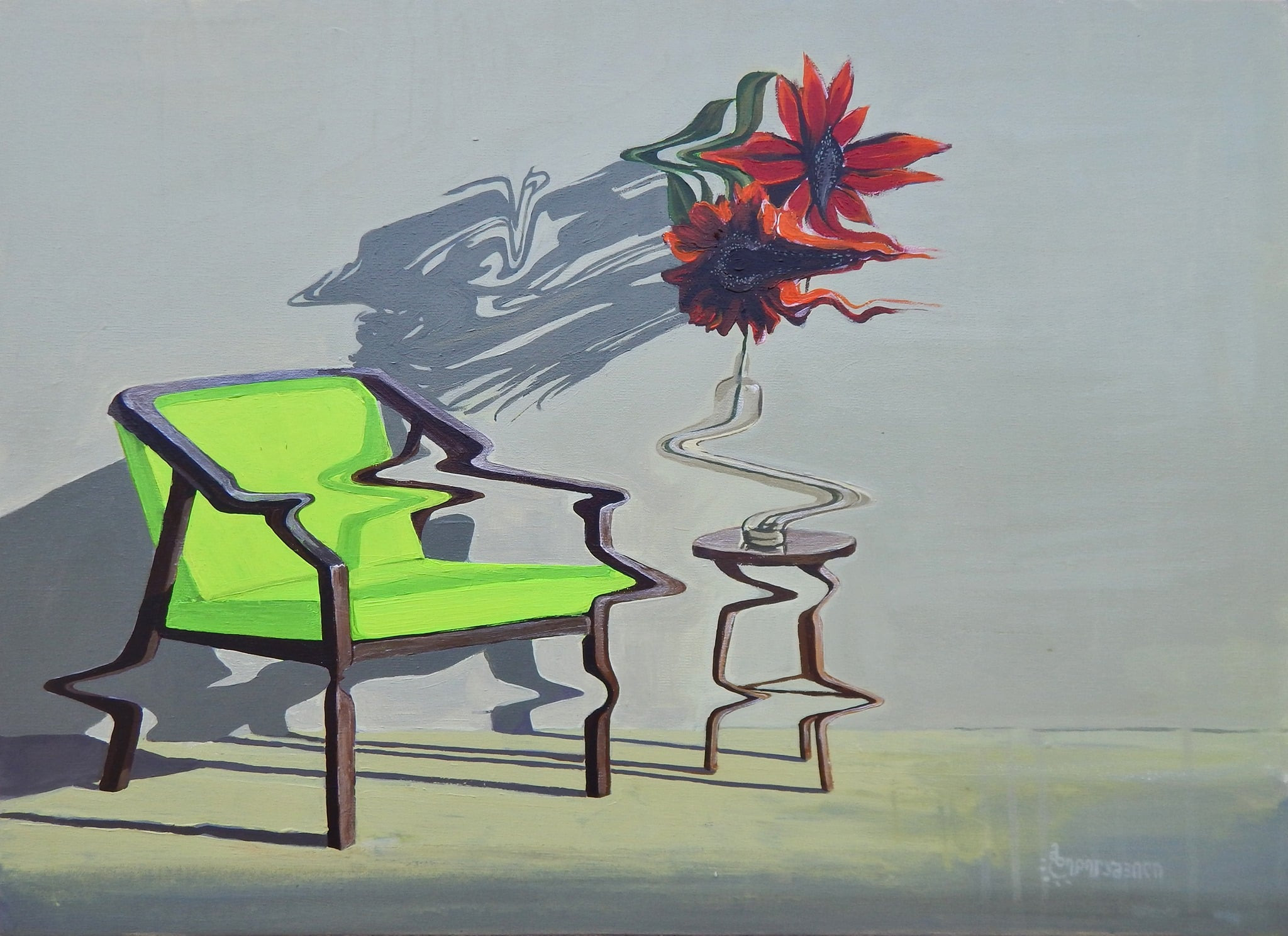 Will you share your future creative plans?
As for the projects, I am currently working on the symbolism of trees and pagan traditions in ancient Georgia. It exists in our daily lives in the form of superstitions and rituals. I dived into the old beliefs, researched a lot, and discovered a world of the unknown arrangement, extremely impressive and interesting.
In your opinion, what challenges the arts/creative industry is facing globally? In Georgia?
I will mainly talk about this topic from a digital art perspective. I think digital art is gaining popularity worldwide. The pandemic has shown us the particular need for digital art, as in difficult times the public was acquainted with cultural news mainly through the internet/ TV, and the art that nourishes people was only available online. Today all of this is being ported from physical space to digital space. This process is simple and natural, because the needs we had in the physical space just got out of here, for example, businesses want advertising to be right here, customers want the museum to be right here. It is a very natural process that we either do not set foot on or can not, it is a kind of "bridge" and the moment of crossing this "bridge" creates inconvenience for many, some are simply lazy to act, some can not get used to the new space and new reality as if it is a kind of a complex to move there. That's where we are now.