A TRANS X STREET GALLERY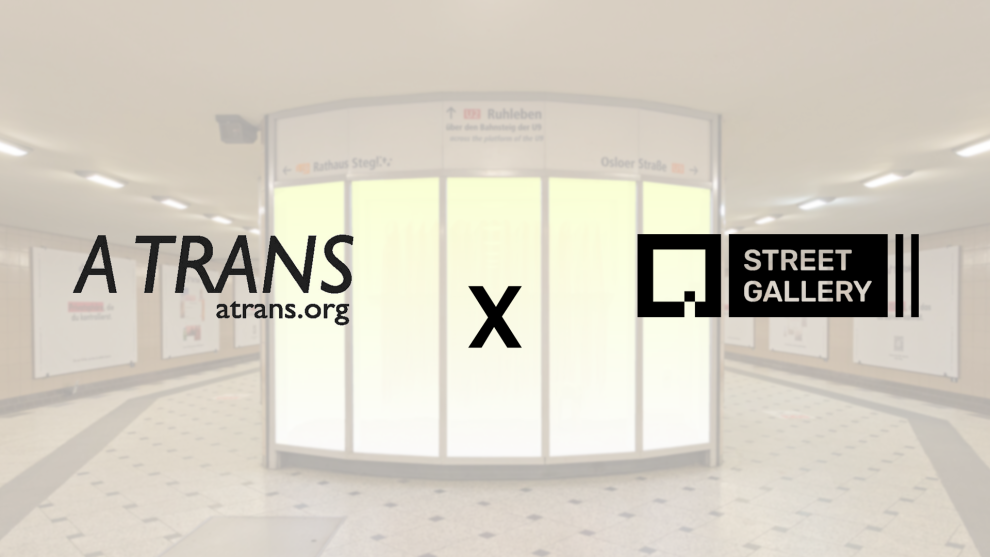 We are excited to announce that STREET GALLERY has partnered with A TRANS , a conceptual laboratory for creative people and a platform for communication about contemporary art, architecture, urbanism and related culture with the focus on the city, space and architecture.
With determination in the search for allies and like minded individuals, architect and curator Isolde Nagel designes a program for those who value artistic architectonic visions and attentiveness to social questions.
Under one year's urban-oriented motto, international collaborators are invited to conceptualize and realize projects that reach beyond individual disciplinary boundaries.
A TRANS promotes participatory projects in public spaces and fosters the dialogue between individuals and groups who are preoccupied with issues related to art and architecture, as well as collaborations with institutions, universities, embassies, publishers and sponsors that pursue similar objectives.
The installations and interventions go along with the investigation of cultural paradigms and new experimental tendencies that impact urban practices and identities.
Our first collaboration with A TRANS is to bring Peter Piek's physical installation, previously exhibited in Berlin Underground (located at Vitrine U-Zoologischer Garten - U9) to our digital arts online museum.
---
About Exhibition:
---